---
Social Work, Bachelor of Arts - Full time studies
Admission requirements
Take up studies at the faculty Social Work can persons who possess:
a General qualification for university entrance
a subject-related university entrance qualification
subject-restricted higher education entrance qualification in one of the subjects corresponding to the degree course
examination for the master craftsman's diploma with professional experience in a field of work in social work
an equivalent entrance qualification recognized by a legal provision or
an Advanced Technical College Certificate
an admission authorization which is recognized as equivalent by the Mittweida University of Applied Sciences.
Occupational fields
Fields of application for graduates of the degree course 'Bachelor of Arts Social Work' are manifold.
They include, amongst others, the following activities: (Examples for fields of application)
Counselling: educational guidance centres, credit counselling
Educational: in homes and day care centres
Advanced-studying: in adult education centres
Artistic, creative: in training centres, in socio-cultural institutions
In everyday life accompanying and supportive: during rehab of ill and handicapped people, in nursing and geriatric homes, in street social work
Planning: in social planning, juvenile and senior care planning
Self-organisations assisting: in community work, in the initiation of self-help organizations, self-governing youth centres and community centres
Organisational and administrative: in agencies, in organisations, in the administration of establishments
In the fields of occupation, work is to be done with following target groups:
With children: in children's homes, day care centres, child and youth free-time centres, playgrounds, children's villages, child guidance offices
With adolescent: in community centres, youth clubs, youth training centres, schools, in mobile social work in streets, in youth federations, in education in children's homes, in shared apartments, in counselling centres, in young offenders' institutions, in youth welfare, in probation service, in therapeutic-pedagogy institutions
With adults: in general social service (family counselling, decisions about childcare and custody after divorce, financial aid, and much else), in specific social services (homeless, addicts, elderly persons, childcare, handicapped aid etc.), family assistance of youth and social service, in training centres, in psychiatric institutions, clinics, residential homes, prisons or institutions of reintegration, in counselling services, in rehab-centres for ill or disabled people, in day care centres for elderly people and retirement homes.
Faculty
Social Sciences
Course of studies
Social Work
Degree
Bachelor
Academic degree
Bachelor of Arts
Start
Summer semester
Regular study period
6 Semesters
Further qualification
Social Work (M.A.)
Social Work - part time (M.A.)

Category
social
management

Type of study
full-time studies

Admission restriction
Yes
Tuition
No
Credits
180
Accredited
Yes / certificate
Application portal
International Office

Objectives of study
The studies provide basic occupational, scientific and communicative competencies for independent and professional work in the fields of social work. Graduates obtain generalist-oriented ability profile which enables them to identify life and problem areas of persons affected in an analytical and diagnostic approach, and to classify them and intervene also in an interdisciplinary and case-related manner. That is, to be able to adequately deal with cases and their problem areas in their underlying biographic, legal and institutional dimension, thereby acting ethically established and supported on high personal ratiocination competence.
Scheme
The modularization of syllabus complies with the requirements of Bachelor studies and is a consistent further development of the hitherto implemented 'fields of instruction'. Studies are not structured by merely stringing academics together, but predominantly by interdisciplinary modules to which important contributions from basic disciplines in their specific design for social work are assigned. Core approach, here, is arrangement along age:
Childhood and social work

Adolescence and social work

Adulthood and social work

Old age and social work
Depending on subject or issue of problem, psychological, sociological, legal, pedagogic, methodological etc. aspects are dealt with and brought together in modules by the representatives of various disciplines. The same applies to further areas of knowledge such as welfare policy, in which legal, economic, social-historic, profession-historic and welfare state-relevant issues become integrated. In the second part of studies, issues of the modernization of society and resulting requirements to social work as well as the complex of social injustice become the point of departure for teaching and studies.
A multitude of action-oriented and scientific methodological activities complete the studies. In the 4th semester, a twenty-week practical internship is provided; in addition, modules, called 'project-fields', which include practical elements are scheduled.
The studies place high demands on the students' participation and independence. Exactly for this reason, it offers many possibilities to develop further and to make new personal horizons of experience accessible. In the degree course, graduates are provided the opportunity to obtain the academic and officially recognized degree of a Bachelor of Arts (BA) Social Work.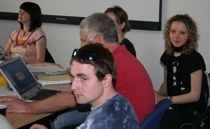 The studies are based on close-to-practice training, enabling students to perceive and analyse complex psychosocial and socioeconomic problem areas of individuals and groups within the functional system 'society' and within the scope of exemplary learning in order to develop approaches to action and possibilities for change.
Curricular design
The studies take 6 semesters. In addition to the consequently practice-oriented provision of syllabus and based on designed case work, many practical connections are established, and a specific practice module in the form of an extramural practical internship (20 weeks) is to be done. In the 5th and 6th semester, students work on a practice-based research project. The final Bachelor's thesis is written in the 6th semester.
Application
Information about admission, German language courses , costs of living as well as the application form are available at our web page:
www.ausland.hs-mittweida.de
Applications for this programme may be submitted through the International Office.
Hochschule Mittweida
International Office
Mrs Saskia Langhammer
Technikumplatz 17, 09648 Mittweida, Germany
Phone: +49 3727 948 137
Fax: +49 3727 948 143
E-mail: langhamm@hs-mittweida.de

Deadline for Applications:
15th May for the winter semester
15th January for the summer semester